We thought we would share with you our idea of a perfect mid-week break in Occitanie – in and around Montouliers. The weekends can get busy on the beaches, in the restaurants and on the roads, so why not make the most of the quieter times and come and have a break during the week? Relax in peaceful surroundings,  see some un-missable sights but without all the crowds.
Here's an itinerary you could follow: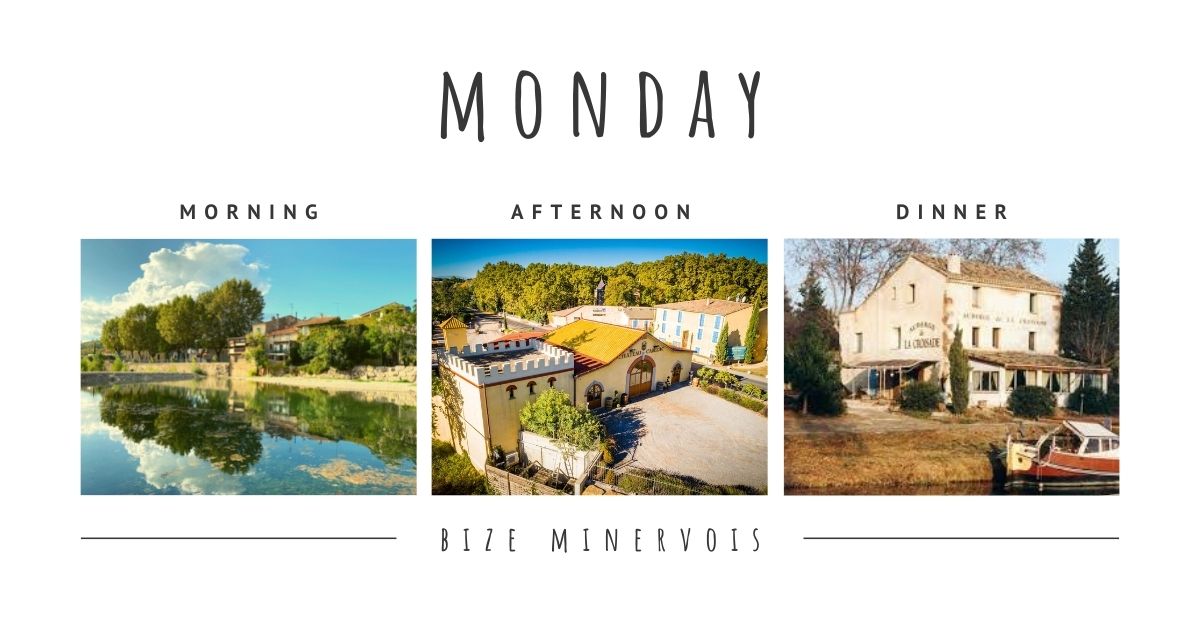 Maybe you had a long journey to get here and you can't face a lot of time back in the car – then why not have a relaxing day and stay local?
We'll pack you a delicious picnic and you head to the neighbouring village of Bize-Minervois – it's only 5 minutes in the car or a relaxing cycle through pine forests and vineyards. You can set yourself up on the banks of the river Cesse, eat your picnic, take a dip in the refreshing water and then take a stroll through the beautifully quaint village.
There is also an olive oil co-operative here if you fancy a tour to find out how olive oil is made. And don't miss Chateau Cabezac for a spot of wine-tasting. Then why not have your dinner on the banks of the impressive Canal du Midi at the superb Auberge de la Croisade just along the road.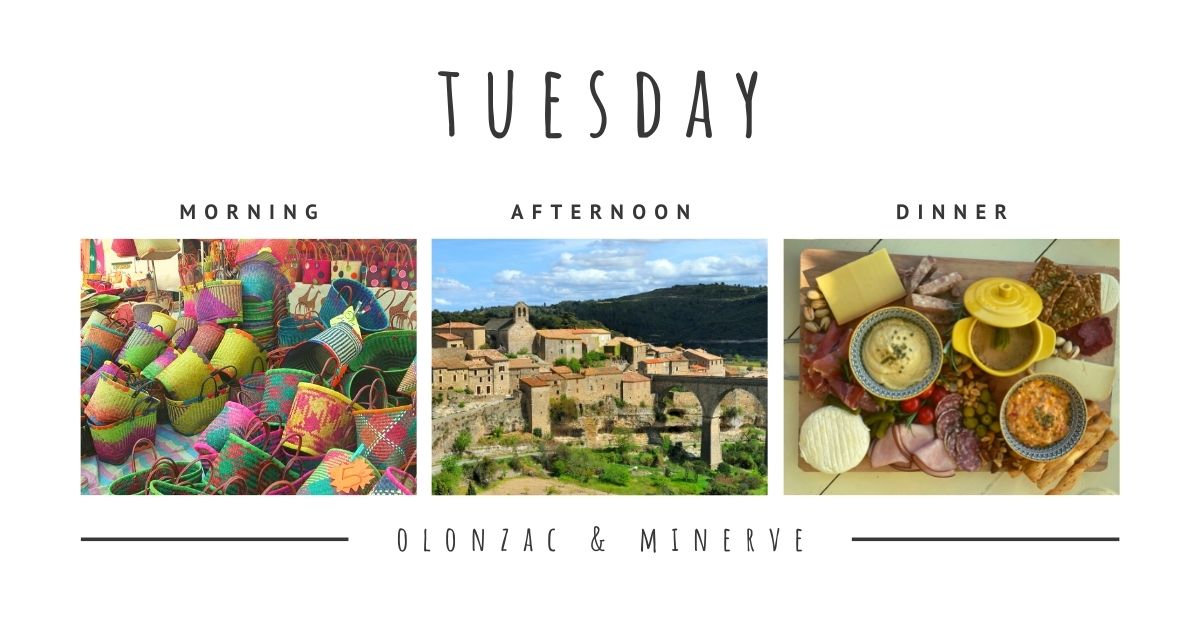 Tuesday is market day in Olonzac. And it is one of our favourite local markets. There is a wide range of food and clothes and artisan products. And it runs through the centre of Olonzac so it's also a great place to head for lunch. There are a number of little restaurants and bistros to choose from on the main strip.
Not far from Olonzac, is the Minervois namesake of Minerve. It's a stunning hilltop village, perched on the side of the incredible Gorges du Brian. It is classed as one of the 'most beautiful villages of France'. Minerve has a lot of tragic history, which you can find out about in its museum. And if you're hot after all day on your legs, you can take a dip in the river here as well – and with that view, it'll be a dip you're unlikely to forget!
Now you can head back to La Calade for a glass of the wine you bought yesterday and a BBQ with all your market goodies!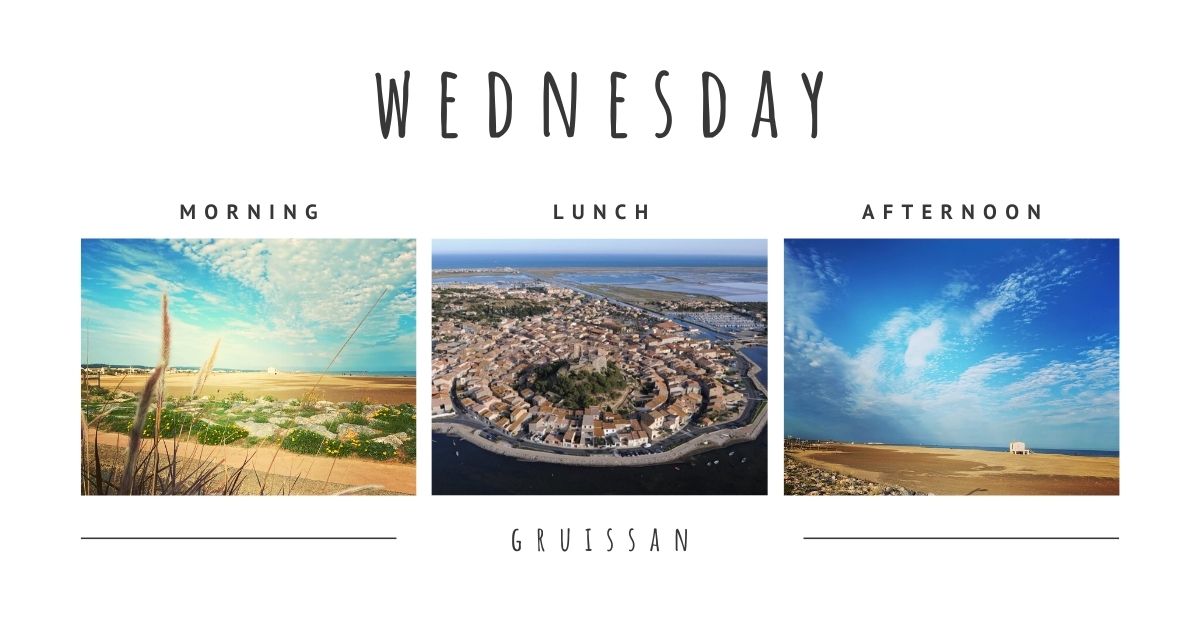 So you've been here a few days and you haven't seen the Mediterranean  Sea yet? Why not head to Gruissan? Just next to Narbonne is the beautiful fishermans' village of Gruissan and the neighbouring Plage des Chalets – made famous in the film Betty Blue.
Spend the morning strolling around the village and visiting the stunning pink salt flats. Then head to Restaurant Les Chalets for a slightly fusion fish lunch and a nice glass of rosé and then soak up the rays on the beach for the rest of the day! There are a number of beach cafés and bars for more refreshment if needed!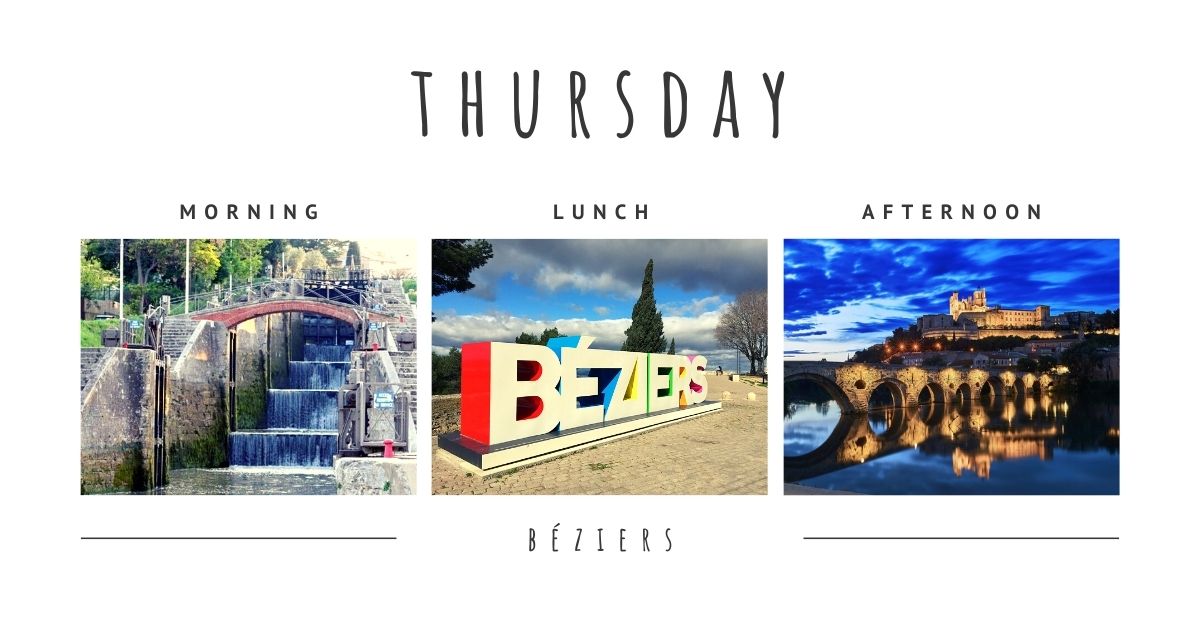 How about a city day? The often overlooked ancient city of Béziers has so many wonderful features and the recently revived and renovated city centre has a feeling of the best parts of Paris – especially the café-lined Allée Paul Riquet. Why not start your day with a coffee here while watching the world go by.
Then head through the cobbled streets, browsing the boutique shops until you get to the Cathedral Saint Nazaire – a majestic monument with panoramic views of the river Orb and its bridges and vineyards for miles.
Then on to lunch canal-side at La Raffinerie where it's only a gentle stroll to see the magnificent 9 staircase locks – les Ecluses de Fonséranes, an incredible feat of engineering on the Canal du Midi.
After all this why not let us prepare you a delicious sharing platter of cheese and charcuterie that you can enjoy in the garden back at La Calade.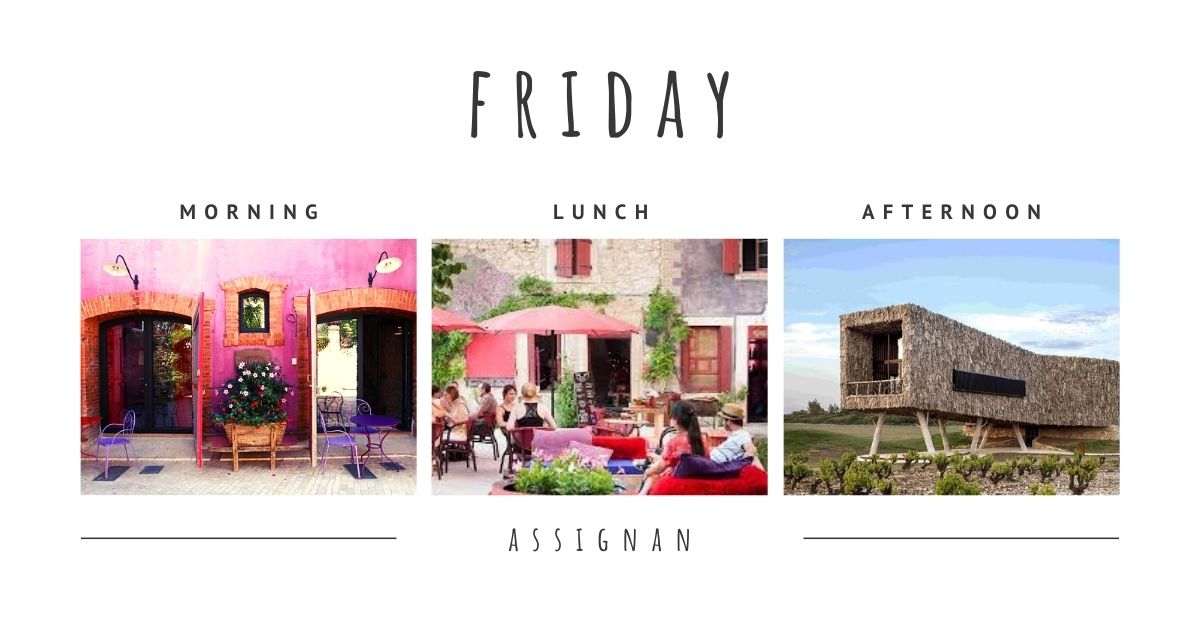 On this your last day at La Calade, why not go out with a bang? How about a trip to Assignan, only 15km from Montouliers. Here you'll find an enchanting village all painted in the colours of wine! The bright pink and purple buildings give it such a warm feeling.
There are 3 choices for lunch – a Thai restaurant, a gourmet, Michelin-starred restaurant called La Table and its little sister – La Petite Table. Something for everyone.
There is also a fantastic winery shaped like an enormous bottle of wine – Chateau Castigno, where you will be very welcome to do a wine-tasting. The perfect place to buy some holiday souvenirs!
And that is your perfect mid-week break in Occitanie!
Free Guide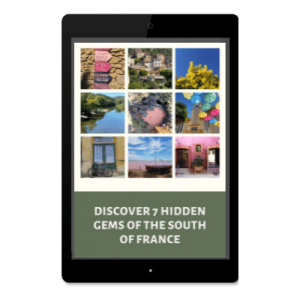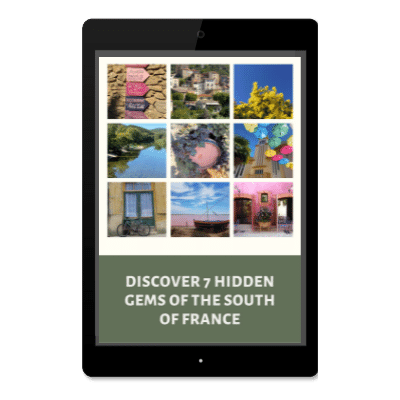 For more ideas of places to visit during your trip you can download your copy of our free guide here