Eating out in Languedoc in some of the wonderful restaurants near La Calade
It's been hard work, but someone had to do it! Here at La Calade Bed and Breakfast we have taken a little time to seek out some of the best places for eating out in Languedoc. If we haven't personally been to these restaurants, they have been recommended by previous guests.
We hope that this gives potential guests another reason to come and visit this rich and vibrant part of Southern France and provides a useful reference to help you plan your stay at La Calade.
Auberge de la Croisade
Tel. 04 67 89 36 36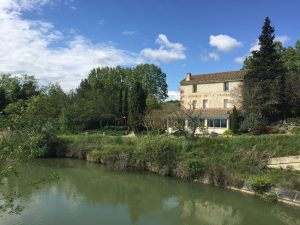 Just a 5 minute drive or 15 minute cycle from La Calade is the Auberge de la Croisade. It enjoys an idyllic setting beside the Canal du Midi with views across the valley of the Aude to the distant Pyrenees.
They serve a range of imaginative and delicious gastronomic menus using fresh local produce, from the modestly priced through to the very special. The set lunch menu is really good value.
They have a carefully chosen and reasonably priced wine list featuring the best of local wineries, from the Corbières, St Chinian and the Minervois to the small independent wine growers and the up-and-coming Cave Coopérative of the neighbouring villages.
When we ate here, we were a bit apprehensive about taking Theo with us as he was quite little and you never know how toddlers will behave but they made us feel so welcome and even gave him a little box of toys to play with just as he was getting fed up! Their service was attentive but not over-fussy.
Auberge la Selette
Tel. 04 68 46 28 64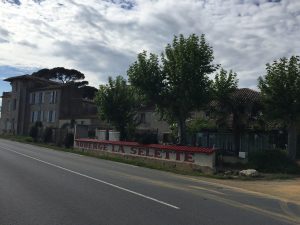 The cosy Selette is a 10 minute drive through Bize Minervois and out to the main road. It has a log fire to warm you in the winter months and a large area outdoors to enjoy in the summer. It is a great place to enjoy something slightly different from the standard French menus so often found. We've eaten here in the summer with a large group of friends and couldn't fault the service or the food.
La Table de Castigno
Tel. 04 67 24 34 95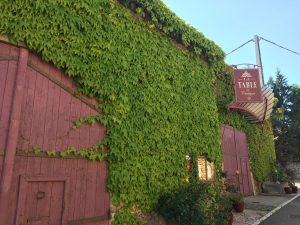 The beautiful village of Assignan is just 20 minutes from La Calade. The Chateau and many properties in the village have been bought and redeveloped by a rich Belgian family, to form a culinary and wine destination, mostly painted in shades of pink – perfect to stroll around after you've eaten at one of it's three restaurants – La Table, La Petite Table and Le Thai Castigno.
La Table is a truly outstanding, fine-dining  restaurant, with a Michelin Star – 'a natural, colourful and spontaneous cuisine that leaves your mouth sparkling' according to their website.
La Petite Table, situated in the village square, offers more in the way of comfort food and dishes to enjoy in an atmosphere of sharing – this is a great place to go for lunch on a sunny day.
Or for something not often found in rural France, you could try the Thai – a place we have not tried yet but are hoping to get to very soon!
Le Pourquoi Pas
Tel. 06 79 36 05 33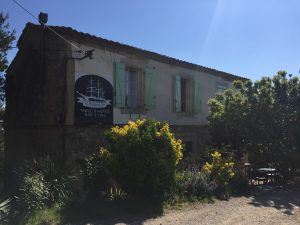 At the Malviès bridge near Capestang you will find "Le Pourquoi Pas".  Situated beside the Canal du Midi, a Unesco World Heritage Site, this former hostel was a resting place catering for the boatmen and their horses in centuries gone-by.   The location is enchanting and instantly striking.
The property is surrounded by green vines, fruit trees, an organic garden  and an area to relax with hammocks, deckchairs and umbrellas.
The "Pourquoi Pas" menu is designed, created, and delivered to delight the guests. The wine bar offers carefully selected regional wines, and the menu is only made with fresh seasonal products as well as produce from the garden. A boules pitch is also available!
La Distillerie – Chez Barbé
Tel. 04 68 45 97 52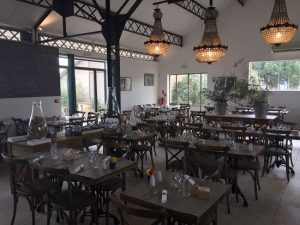 La Distillerie, 15 minutes drive away in Saint Marcel sur Aude is a lovely, relaxed place for lunch or dinner. It's an old distillery, as the name suggests, and has been renovated with a lot of thought.
The menu has a lot of choice, much of which is cooked on a barbecue. The portions are big and the staff are really friendly and helpful. I've heard that the cocktails are pretty good too! There is an outside area which looks great but we have not managed to get there yet!
Les Grands Buffets
Tel. 04 68 42 20 01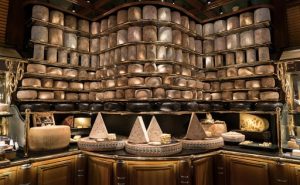 A little bit further away in Narbonne – about a 25 minutes drive – is Les Grands Buffets. This is an 'all-you-can-eat' with a difference! Foie gras, lobster and oysters are all included! We have had guests come to stay who have planned their whole trip around eating here! They have won the Guinness World Record for the  most cheese varieties in a restaurant in the world. This place has to be seen to be believed!
Le Chat Qui Pêche
Tel. 04 68 45 37 42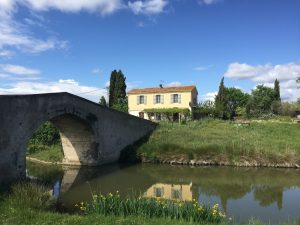 Here you will find very well cooked and presented food on the banks of the Canal du Midi, just outside of our neighbouring village of Argeliers. They offer great value, friendly service and excellent wine from the Argeliers Cave Co-operative. You can sit inside in a beautifully decorated room, with an old record player in the background providing the perfect ambiance or under the vines alongside the canal.
We hope that this gives you a little taster of some of the places you can get to in under 30 minutes from La Calade. Eating out in Languedoc is such a joy – it's worth planning for! If you have any questions please get in touch with us, we'd love to hear from you. Send us an email on info@lacalade.fr or give us a call on 0033 7 68 24 55 54
Free Restaurant Guide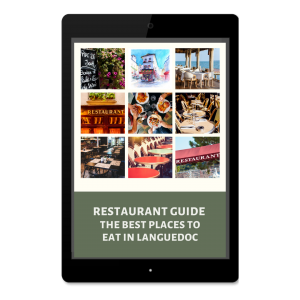 If you would like to read more about the fabulous restaurants in the Languedoc, you can download your copy of our restaurant guide here