We think our place is great but don't take our word for it – read on…!
The house and garden are very relaxing
"Thank you for your hospitality! We had a lovely stay at your beautiful B&B! The house and garden are both great and very relaxing! Thanks for everything"
Stef & Inge – Netherlands
A Wonderful Stay
"Dear Rob, Natalie and Théo, we had a wonderful stay at 'La Calade'. Our room was beautiful and the breakfast was yummy. Thank you for your kindness! We hope to come back one day"
Joris, Lisa & Jack – Belgium
A Perfect Getaway
"We stayed for four nights at La Calade. We made a road-trip through France and tried to avoid the well known crowded places in the end. That is how we found La Calade. I'm not exaggerating when I say this place was one of the highlights of our stay. Rob & Natalie are the sweetest hosts you can imagine, their B&B is amazing and the surroundings are wonderful. With max half an hour car drive away there is sooo much to do, but La Calade is perfect for relaxing as well.
Next time we go to France, La Calade is our Number 1 place to visit again"
Jasper – Netherlands
Fantastic B&B
"I had a lovely 3 night stay in room 'Carignan'. A fabulous welcome from Rob & Natalie. Newly refurbed room with an amazing view. Great location for visiting Carcassone and the many vineyards in the surrounding region 😍 Would definitely recommend 👍"
Hazel – UK
I would recommend this B&B to anyone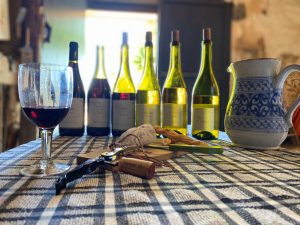 "I would recommend this B&B to anyone, if you are in for a relaxed or active holiday. The old house is renovated in a modern manner, but is still an authentic wine makers house. Our room looked out on an amazing scenery and had everything we needed. We asked for recommendations and the ones we got were all very nice.
With just a short car drive, there is a lot to do in the area. We did a wine tasting with a local wine maker at the house which is definitely a highlight of our stay here. The kitchen and barbecue for guests is a great plus as well! We would love to go back and learn more about the area some time"
Danique Seelen – Netherlands
Owner very helpful and kind
"Very nice little village. Calm place. Rooms are very nicely decorated with details. Common kitchen. Owner very helpful and kind for many things. Was able to charge my EV in front of house, with normal electric socket due to late arrival"
Christophe Lemaire – Luxembourg
Lovely B&B in charming village
"We stayed 6 nights at La Calade. It was a great location for exploring the region. There's a kitchen available and a barbeque in the charming private yard. A very nice breakfast was also included in the price. Finally the hosts were very kind and helpful"
Michael & Lærke – Denmark
What a super place!
"Newly renovated, extremely clean and beautiful. Our hosts were attentive and wonderfully relaxed. Spacious bedrooms with en suite bathrooms. Great shower. Yummy breakfast. Lovely home in the most picturesque village. We are definitely returning! Thank you Nat, Rob and Théo"
Sevin & Keith – Holland
We will be back!
"We had fantastic 4 night stay at La Calade, this was our second visit so we knew exactly what to expect and yet again we were not disappointed.
Robert, Natalie & Theo were wonderful hosts from the outset. They welcomed us into their beautifully decorated and very clean home in such a warm and friendly way. Our room was beautifully presented and perfect for our needs. Our 4 year old daughter was even given the opportunity to play with some of Theo's toys which she found to be very exciting.
Breakfast was perfect for us, separate times are offered to each group staying at La Calade for anyone that is concerned about social distancing.
Rob & Natalie's local knowledge was very useful and both were on hand should we have needed any help planning our days / evenings.
There is a wonderful BBQ area / courtyard at the back of the property that we used on one of the evenings – Rob and Natalie even joined us which was really nice for us – we even saw some guests that had stayed there at the same time as us last year which was fantastic.
There is lots to see in the local area and the 2 beaches we visited (Gruissan & Valras as recommended by Rob) were really good for us.
A walk around Montouliers is very pleasant, the locals are all very laid back, polite and welcoming.
We will be back!"
Matt, Nathalie & Mia – France
A very pleasant stay
"A very pleasant stay in La Calade with hosts who are both discreet and attentive
The rooms are very beautiful decorated and we appreciated to be able to have the all house for our family stay
Thank you to Natalie and Robert !
Montouliers is a small quiet village, easily accessible and close to the Canal du Midi, not so far from the sea and many others things to discover in the region"
Fabienne Alliott – France
Another perfect stay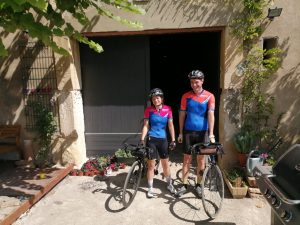 "Merci! We had another perfect stay at La Calade and wouldn't think of staying anywhere else. We're already planning our trip(s) for next year. Thank you for making it such a relaxing and beautiful home away from home for us. We can't wait to come back!"
Alice & Ed – UK
I highly recommend a visit
"We stayed at the La Calade whilst touring the area. Robert and Natalie ( and lovely little Théo) were amazing hosts, very friendly and hospitable. With great local knowledge. We were made to feel at home immediately. The house was spotlessly clean and the decor is beautiful, they have a great eye for detail. We had a lovely family room with very comfortable beds. The breakfast was great and all set up ready for us in the living room/ dining area with a great view of the surrounding fields. It was very relaxing.
We were invited by Robert and Natalie to a BBQ with 2 other guests who are regular at the La Calade, returning to cycle and taste the plentiful local wines. It was very laid back and sociable. We were happy to join in. The beautiful location has something for everyone, the sunshine, great cycling and wine tasting as well as close beaches and water parks ( a short drive away). We wished we could have stayed longer, we will definitely be returning sometime this year. I highly recommend a visit"
Gareth, Andrea &Tam – France
We really enjoyed our 3 night stay here
"We really enjoyed our 3 night stay here. The owners are very welcoming and the house is beautifully decorated and clean. We had a lovely big room with a high ceiling and comfy bed. The bathroom was modern with a good shower. The village is very pretty with a friendly little cafe/bar/shop so everything you need nearby.
There're nice walks marked nearby although we mostly had lunch in a nice restaurant and did a bit of wine tasting and great fun at the vides grenier (likes a garage sale but prettier). Apparently they are a thing locally and surprisingly good fun. Also we went to Le Somail for a day trip nearby by which is a pretty little town on the Canal du Midi where you can do boat trips or just have another lunch"
Gavin & Crystal – France
The rooms are lovely, spacious, clean with some great design features
"We had 2 great stopovers here one in May one in September while we were traveling from the Alps to the coast. Very conveniently placed to break up a trip with a little one.
On the second visit Natalie and Rob and their little boy took us to the local vineyard for a wine tasting. The kids played together and so could the adults.
The rooms are lovely, spacious, clean with some great design features. Breakfast was fantastic bread and patisserie from the local bakers. Will always stop in here as it's a route we often travel"
Vanessa, Joe & Rafiki – France
Highly recommendable!
"Our family of four stayed at La Calade for three weeks. We could not have been happier with our choice of stay. It truly is an extraordinarily charming, beautifully furnished and renovated place. The beds are comfortable and the rooms and common spaces are clean. The backyard is such a lovely secluded space to hang out (and for our kids to play) and gave us this lovely (private) Southern France feeling.
What really won us over was how Natalie, Rob and Theo took care of us. They were welcoming, helpful and engaging. The service could not have been better and they made us feel well at home. We highly recommend this place!"
Esther, Radu, Lisa & Victor – Denmark
A hidden gem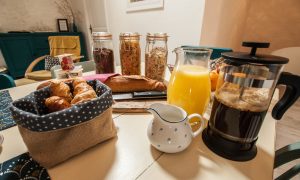 "A hidden gem. Beautifully renovated townhouse in the middle of Montouliers, situated in the heart of wine country. Super friendly and attentive owners, they even put on a delicious barbecue for us! Also the breakfast was particular good. Loved the home made croissants"
 Alex – France
Great value for money 
"We spent a night here and felt very at home. Lovely place, very nicely done up and great breakfast. Great value for money and the hosts are lovely 🙂 highly recommend"
Charlotte – UK
Warm croissants , fresh bread and home made apricot jam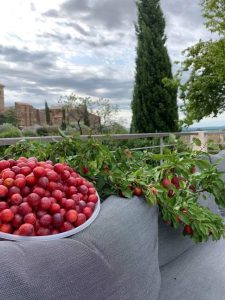 "This is a stylish and spacious room with comfy bed and great en-suite facilities. The added benefit of a communal kitchenette and living space for guests was perfect for a night in. Warm croissants , fresh bread and home made apricot jam were a winner with us all at breakfast. Rob and Natalie were brilliant hosts and couldn't be more helpful. We highly recommend"
Hannah Sealey – UK
Lovely place to base yourself for a few days to explore the region by car or bike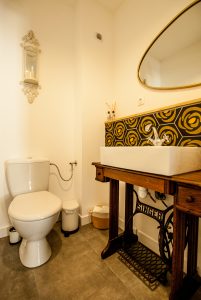 "Would be a lovely place to base yourself for a few days to explore the region by car or bike. Quirkiness of the use of old furniture to decorate such as treadle sewing machines as basin stands. Good selection of bedroom configurations double, twin and a family room
Welcoming and engaging hosts. Beautiful home and thoughtfully decorated. Plenty of space. Lovely village to wander around. Owners gave us a lift into town which was very much appreciated. Rob and Natalie were wonderful hosts"
Jane – Australia 
The perfect location for cycling into the hills of the Haut Languedoc, and trying the local wines along the way.  
"We had an amazing time staying at La Calade! The perfect location for cycling into the hills of the Haut Languedoc, and trying the local wines along the way. It was pleasure to be hosted by Natalie, Rob and Tao – super accommodating, stylish rooms, a delicious breakfast and plenty of space for our bikes in the basement. Would recommend!"
Edward Parsons – UK
Layback feeling of southern part of France 
"Rob and Natalie are perfect hosts, you feel at ease immediately. That's what one needs after a long day of travelling. All new, comfy and cosy and you'll get the layback feeling of southern part of France immediately! Simply flabbergasting good!!! 😊"
Ruben – Spain
The breakfast was delicious 
"We really loved this B&B. Robert and Natalie are so friendly and nice people! They have done a great job creating this cosy and beautiful place. The accommodation is perfect, clean and there is enough room to spend your time. We had a good night and comfort sleep. The breakfast was delicious. We can absolutely recommend this B&B"
Dorothé Plas-Smale – Nederlands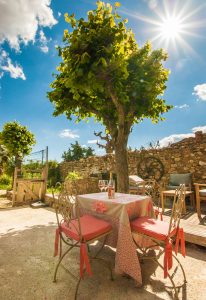 "We were a group of friends staying at Natalie's BnB while exploring the Languedoc wine region. The location was great for that. The rooms were nice, the beds were comfy and we really appreciated the breakfast provided. I will miss my daily croissant.
It was super hot while we stayed there, so we made good use of the outdoor patio and BBQ area. Communication with Natalie and her husband was easy and they were very flexible. They also recommended a great restaurant nearby that was perfect for our large group.
Would definitely come back again when we run out of Languedoc wine (it make take a while – we bought a lot with the excellent wines at reasonable prices). Highly recommend"
Søren Houen – Belgium
There are some lovely circular walks direct from the property 
"Breakfast was great. We're all veggie and that was catered for each morning with a lovely fresh continental breakfast of french baguette, pain au chocolat, cereals, normal tea, infusion teas, freshly brewed coffee, jams. Perfect start to the day.
The location is perfect if you are looking for more than being a beached whale on one of the relatively close mediterranean beaches. Even then a plethora of decent beaches are within a 30-40 minute drive and wherever we went we found the parking to be free. Even right next to the beach. We went to two beaches while we were there – Valras Plage and La Plage Saint Pierre la Mer. Both good.
There are some lovely circular walks direct from the property without the need to drive anywhere to start them. The village has one shop from what I could see which also serves as the local pizza restaurant. We ate there once on our 3 night stay and it was good. The hosts were there when we needed them and left us to ourselves when we didn't. Just the way it should be.
Carcassone is about 40 minutes away if you want to visit that and there are plenty of vin yards, and medieval towns and villages nearby if that floats your boat. What else: Bed – super-comfortable; water pressure for the shower – great! Kitchen available and well appointed! Own entrance via the really quaint outdoor seating area/bbq area at the back (south facing)"
Nicholas – France
Stylish rooms, welcoming hosts and lovely historic building in the heart of wine region  
"Stylish rooms, welcoming hosts and lovely historic building in the heart of wine region. Perfect for couples. Lovely views of surrounding countryside. Close to national park with walks etc. Comfortable beds. Outstanding value!"
Roger Clarke – UK
If you want to ask a question, please get in touch by sending us an email on info@lacalade.fr
or give us a call on 0033 7 68 24 55 54 and we'd be happy to hear from you!
Or you can check availability or book your stay today in one of our four rooms here
Or head over to our special offers page by clicking here: