The restaurant Les Grands Buffets in Narbonne has revived the French tradition of buffets. Since the Middle Ages, this is how the French aristocracy have enjoyed their grand banquets; serving all the dishes at the same time on a 'buffet' inviting each guest to compose their own menu according to their own taste and fancy! Now Les Grands Buffets invites the public to relive this endangered experience: great French gastronomy, in the form of a feast full of exceptional dishes for little over €40 for lunch or dinner!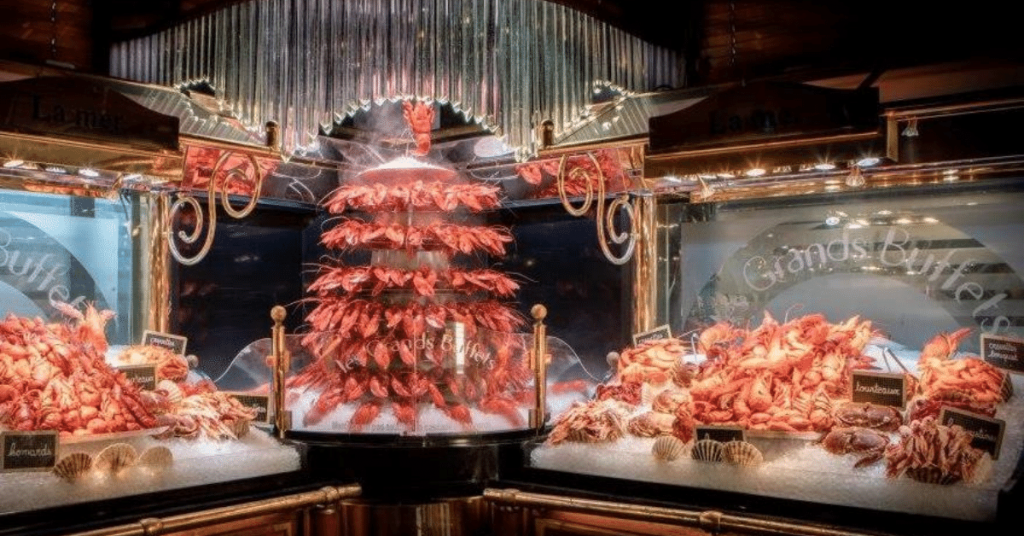 Fine Dining & A Sense Of Service
At Les Grands Buffets the revival of the classic French feast also extends to the art of the table. You'll find white embroidered tablecloths and napkins , large candlesticks, stemmed glasses. decanted wines, and top-of-the-range silver cutlery. And even though your are helping yourself from the buffet the waiters are there to assist with wine choices, clear plates and make sure that nothing is missing. And if you come to celebrate your birthday, the restaurant staff will sing, accompanied by a gramophone!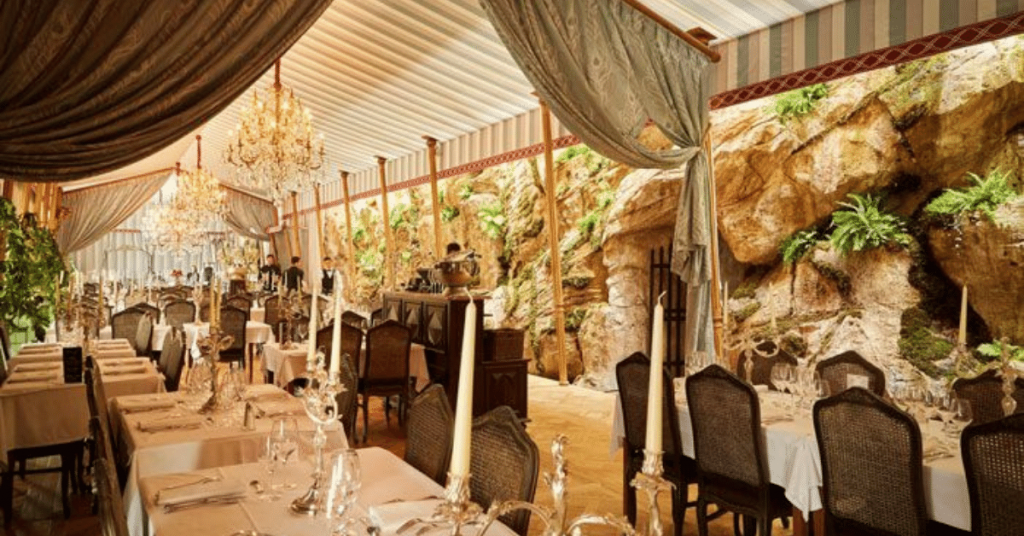 Your Grands Buffets Experience
Initiate your gastronomic journey with a stopover in the world of hors d'oeuvres, take a detour through seafood, continue via the rotisserie, then lose yourself in the largest collection of cheeses. All that remains is to conclude your banquet with a myriad of pastries or a visit to the grand ice cream parlour. Along the way, accompanied by a selection of 70 wines.
You might need to work out your strategy before you are presented with such an array of food though. Do you prefer lobster or desserts? Will you challenge yourself to taste all the starters? Will you have enough room for the cheeses?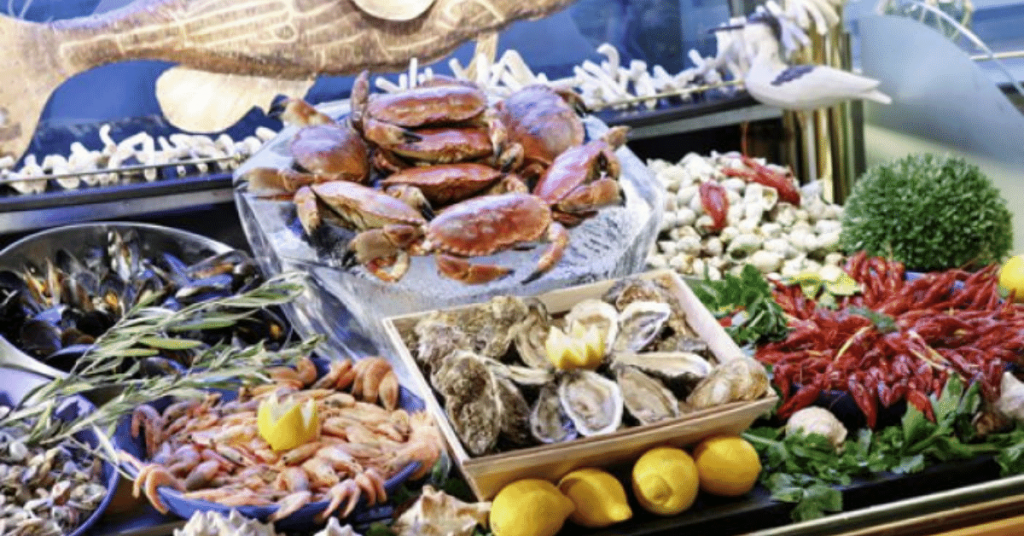 Hors d'oeuvres
The incredible lobster fountain first catches your eye, but there is so much other shellfish too – cockles, mussels, oysters, wild shrimp, clams, crab – every different type of fish – smoked, carpaccio, marinated, raw, mousse. And then of course meat-lovers aren't forgotten with 9 types of foie gras, various joints of cured hams, a large choice of other cold cuts and pâtés, but also gazpacho verrines, avocado cream or even mini sandwiches. One piece of advice – take small amounts to make the most of it!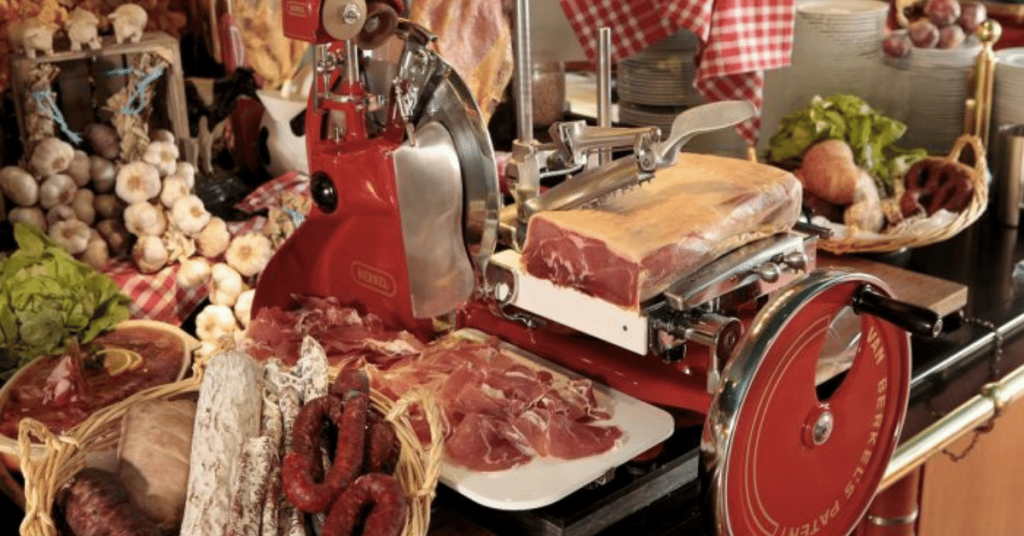 Main Dishes
In the rotisserie area you find the cooked to order meals. From pan-fried duck foie gras, cooked to perfection to tender suckling lamb. It is not often you get a chance to taste such meats. Here there are also specialities like flambéed prawns, cuttlefish from Séte, fried anchovies, organic mushroom puff pastry, calf's liver, kidneys, skate wing, turbot, frog legs, snails, marrow bone with fleur de sel and cooked vegetables. There really is something for everyone!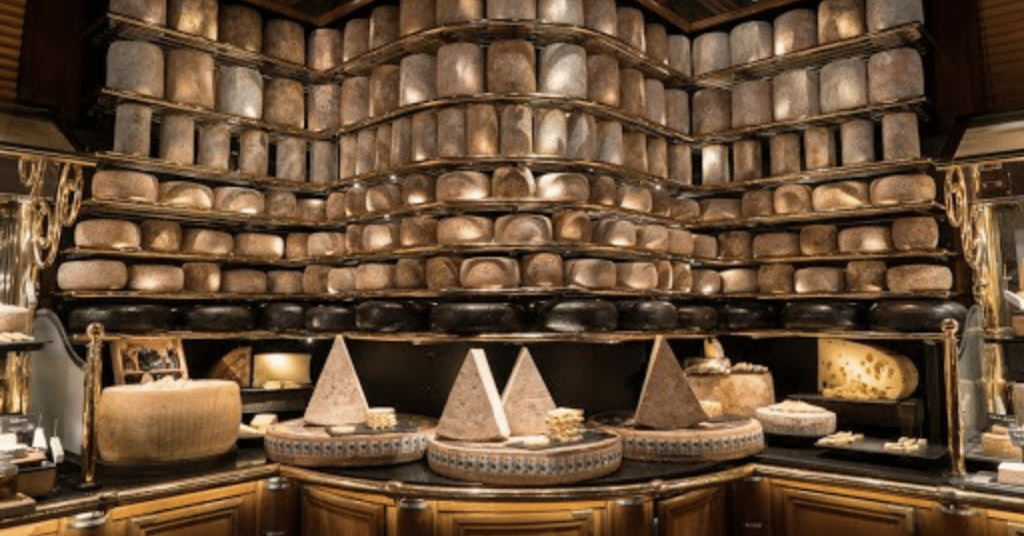 111 Cheeses To Choose From
You have to save some space for this part of the meal because Les Grands Buffets hits hard with the cheese board. No less that 111 cheeses from France and Europe are on offer at all times. In fact they won an entry in the Guinness Book of Records in 2020 for the largest selection of cheeses in a restaurant in the world!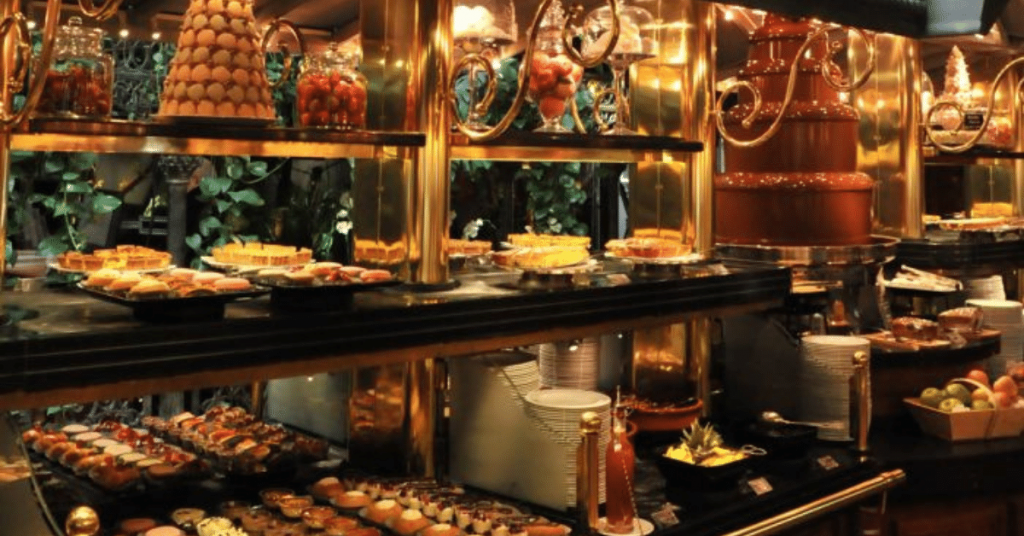 A Feast Of Over 50 Desserts
A feast of desserts are arranged around a chocolate fountain with fresh fruit to dip. There are tarte tatin, chocolate mousse, pannacotta, crème catalane, île flottante, financier, macarons, fruit tartlets to name but a few. There is even a maître d'hôtel freshly preparing crêpes Suzette and flambéed bananas.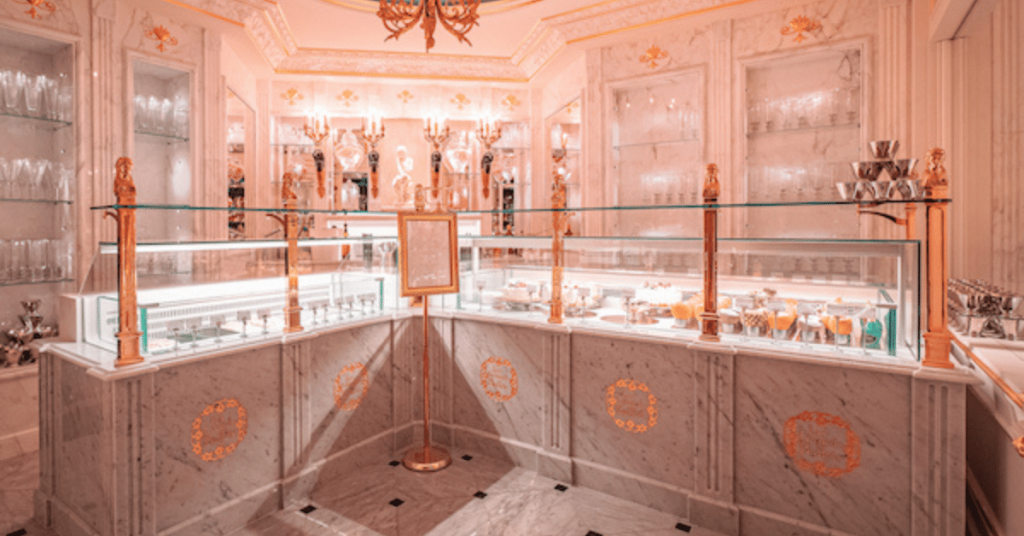 The Ice Cream Parlour
There is even an ice cream parlour that looks like un upscale period boutique providing a plethora of ice cream, sorbet and frozen desserts.
Wine
You can discover the greatest wines of the Languedoc-Roussillon with no less than 70 options, all available by the glass or by the bottle and sold at cost price!
Booking Your Unique Experience
You can choose the mood when you make your reservation. Surrounded by plants and fountains in the garden in the summer. In the Max Le Verrier room to take you back to the 1920s. In the Ann Carrington room for an artistic touch. Or in a private room with your family. Just don't forget to book in advance! Up to a year before your visit and only on the restaurant's website. But be aware, it gets booked up quickly, especially at the weekends.
While you are in the area why not check out one of France's most beautiful villages, Minerve with it's stunning scenery and turbulent history. Or the wine and gastronomic destination of Assignan. Or Gruissan with it's beautiful beaches and fisherman's village?
Free Guide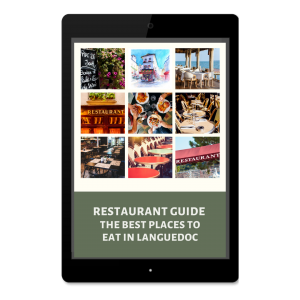 If you'd like to read about more wonderful restaurants in the Languedoc you can download our free PDF guide