The south of France is not well-known for it's Christmas markets but almost every town and village will have a Christmas market at some stage from late November to New Year, but usually just for a day. The big towns and cities, however, have larger markets that last throughout the month of December and often include a skating rink, perhaps a funfair, definitely plenty of local delicacies and lots of vin chaud! Wandering around these markets in the sunshine is in my opinion far preferable to the sleet and rain that accompanies many traditional markets further north!
Toulouse
Place de Capitole. 26 November – 26 December 2021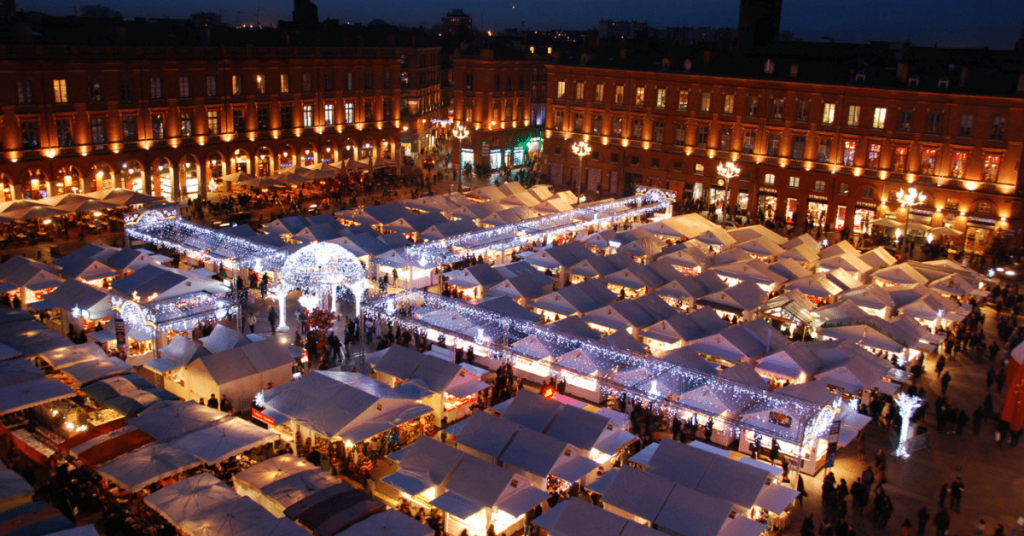 The Toulouse Christmas market will take you into the magical world of Christmas through its magnificent illuminated village. You will be able to stroll along the alleys lined with immaculate white chalets, offering many gift ideas: decorations, jewellery, unique designer pieces, games, toys and clothing.
And of course there will be Christmas delicacies such as churros, mulled wine and aligot.
Father Christmas's chalet will welcome children every day.
This market will be totally accessible to people with reduced mobility and visually impaired people, with wide aisles and chalets with shelves at wheelchair height.
Narbonne
La Promenade des Barques et Le Cours Mirabeau. 4 December 2021 – 2 January 2022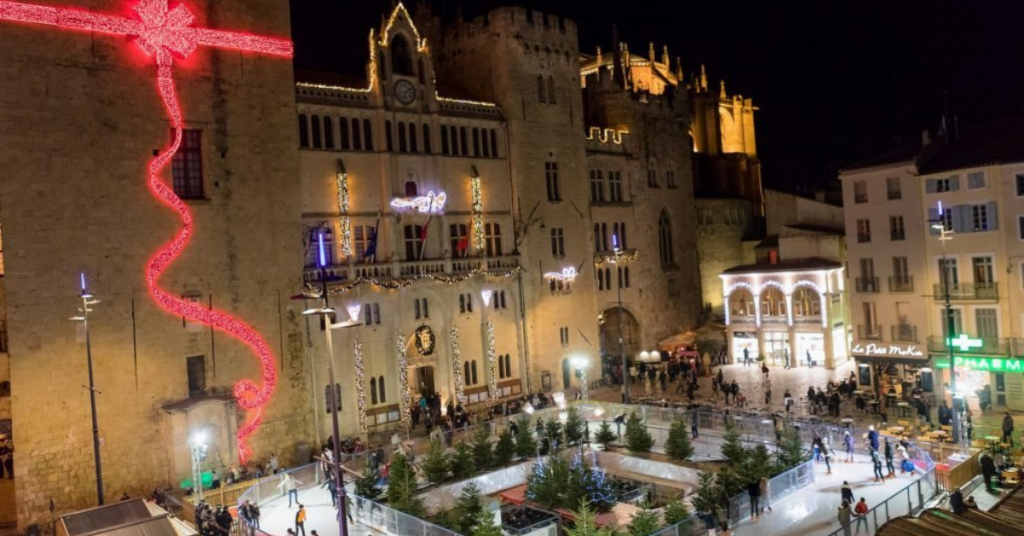 Narbonne's Christmas market is held along the canal-side and in the main square and consists of over 30 wooden chalets, where you can find many traditional items such as Christmas decorations, santons (figurines for the nativity), candles and also delicious Narbonne cuisine.
There is a Christmas village especially for children with festive activities for them to do such as making decorations, face-painting and baking.
'The Christmas Fairies of Narbonne' also includes a magical forest, an advent calendar, Father Christmas with his sleigh, an ice rink, a parade of cartoon characters and lots of other activities in the historic centre.
Carcassonne
Place Gambetta. 4 December – 31 December 2021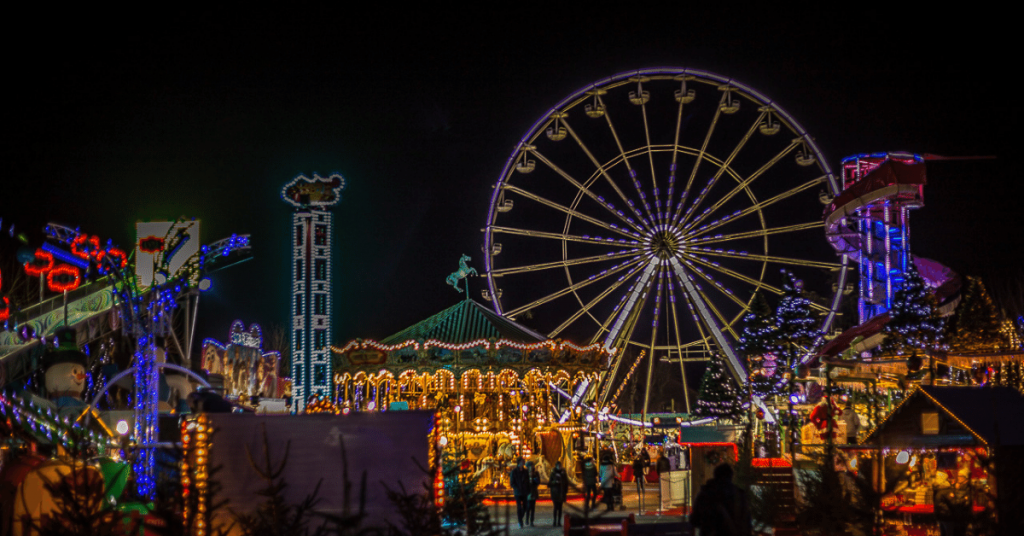 For Caracassonne's Christmas market, called 'The Magic of Christmas' there will be a 180m² ice rink set up for the month of December in the heart of the town. You can put your skates on and slide around Neptune's Fountain on real ice!
Surrounding the ice rink will be the traditional Christmas market with 30 chalets offering original and unusual objects as well as many sweet and savoury delicacies to delight your taste buds. There'll be free face-painting for the children and they can play on the Advent Calendar to try to win a gift.
There will also be the the big Christmas show on the 24th December at 6pm and the possibility of spotting a giant robot during one of the street parades.
Montpellier
Esplanade Charles de Gaulle. 24 November – 26 December 2021 (except 25 December)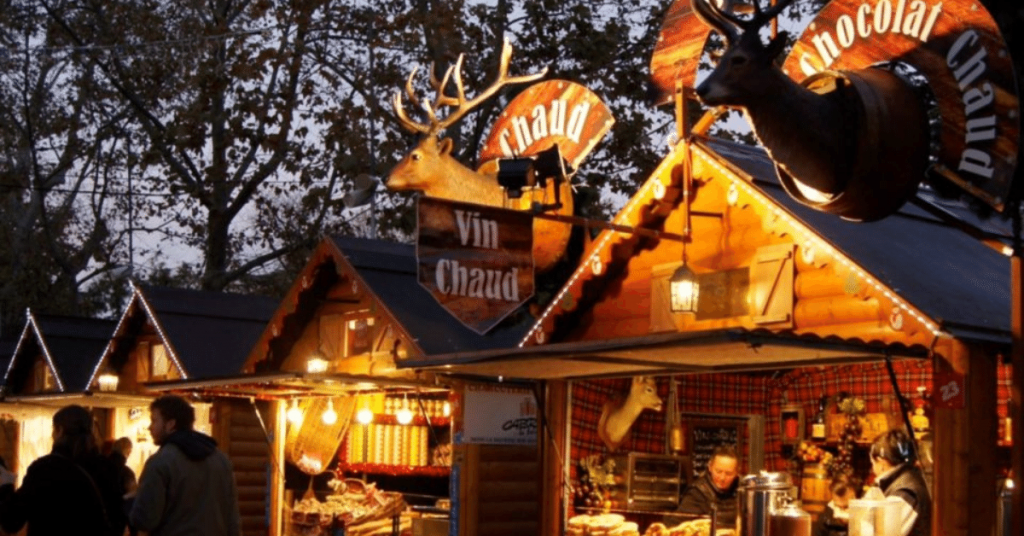 'Les Hivernales de Montpellier' is a one of the Christmas markets in south of France not to be missed. Come and discover regional Mediterranean specialties in this fun and festive atmosphere. Hundreds of local stallholders invite you to taste their products from sweets to oysters and mulled wine. There are also decorations, toys, jewellery and gifts. It's the perfect place to get your Christmas shopping done whilst enjoying the festive atmosphere.
You will also find Christmas parades, rides in Santa's sleigh, an ice-skating rink, a nativity scene and workshops for children including face-painting and origami.
Perpignan
Quai Vauban. 4 December 2021 – early January 2022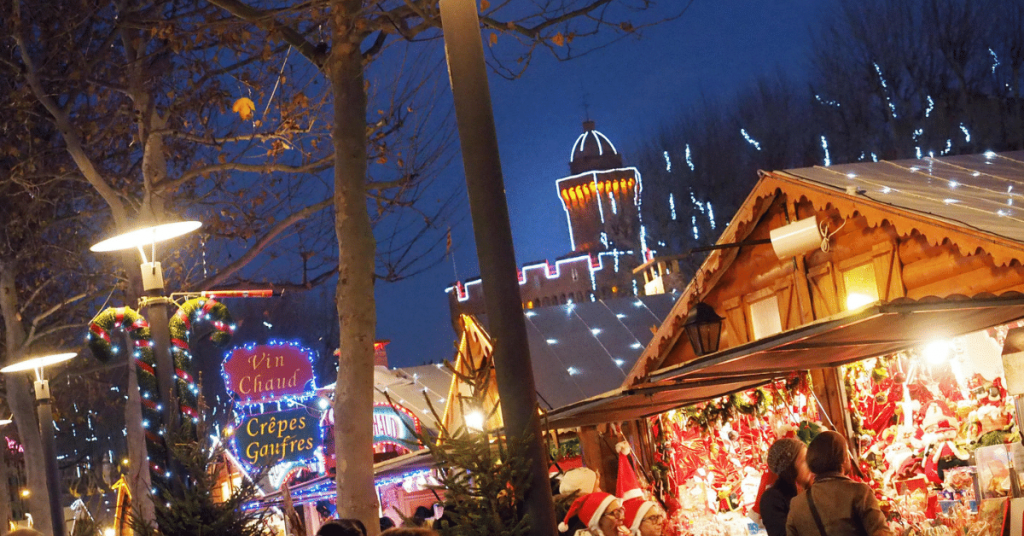 The historic Quai Vauban undergoes a complete Christmas make-over with twinkling lights, a giant ferris wheel and of course the quaint Christmas market. New for 2021, the chalets are a very patriotic red, white and blue, with an additional Christmas village along the promenade of Allées Maillol.
The traditional wooden chalets sell a range of festive and artisan products including vin chaud and churros….mmmm.
There is also a fun fair in Place Catalogne, donkey rides in Place Gambetta every Saturday and various festive entertainment through the other squares and streets over the Christmas weekend.
Valmagne Abbey Christmas Market
27 & 28 November 2021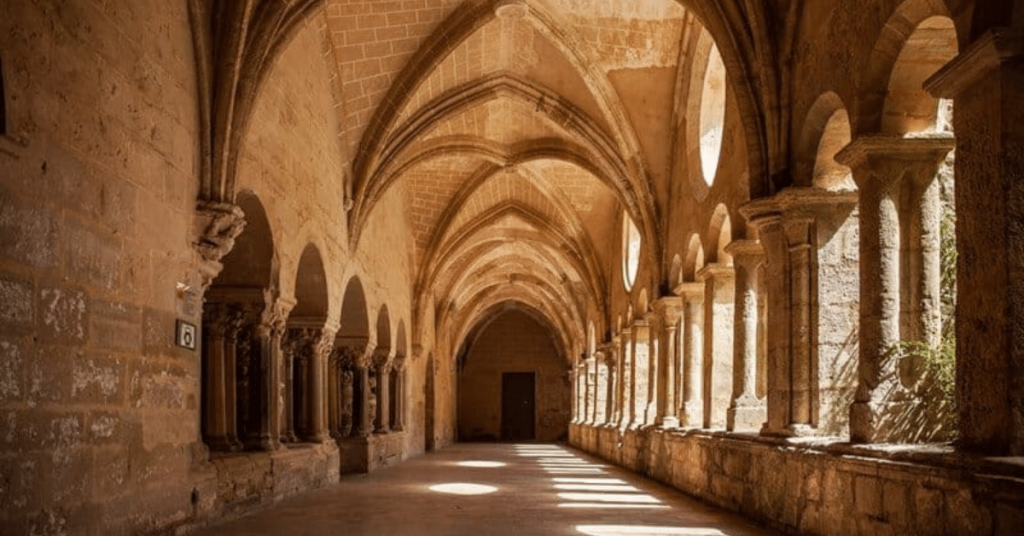 For the fourth year the 'Cracker Fair' will host 220 international and local artisans and artists, food trucks and entertainment over this November weekend at the stunning abbey
If you are looking for a beautiful place to stay during the festive period, why not head over to our special offers page to see our December Special?