What is Languedoc-Roussillon famous for?
Cathar Castles
The Pyrenees
Beautiful French-Roman villages
Beaches sprawling along its Mediterranean coastline
But today it is best known for its vineyards, which produce one third of France's wine. Hence the idea for this Languedoc-Roussillon Wine Guide!
For wine enthusiasts on a budget, Languedoc-Roussillon is becoming known as a great value wine region. So what do you need to know about the Languedoc (long-eh-dock) to get great wine?
Here is a helpful (and inspiring) guide that was outlined by a Languedoc-Roussillon local, Julien Vaché. Learn what types of wines to look for and where you can go to taste them when you get here!
Languedoc-Roussillon Wine Guide
Major Types of Wine
It's all about blends
In the Languedoc, vineyards are often called 'patchwork' because so many different grape varieties grow together. Most producers make blends instead of single varietal wines. Red blends from Languedoc-Roussillon tend to be more full-bodied and fruit driven.
Red Wine
Rich full-bodied red wines with Syrah, Grenache, Carignan and Mourvèdre as major components.
White Wine
Unoaked zesty white wines made mostly with Picpoul and Grenache Blanc. Step aside Pinot Grigio!
Rosé Wine
Same varieties as reds and whites, but pink by design.
Sparkling Wine
Cremant de Limoux is supposedly older than Champagne, and super value
Sweet Wine
From the white sweet wines of Muscat to the red fortified Maury, a wine made of Grenache that lasts up to 100 years
Major Languedoc-Roussillon Wine Regions
During the 1970's the Languedoc-Roussillon was guilty of overproducing cheap jug wine. Old Grenache vineyards were ripped out and replaced with high yield  grape varieties such as Carignan. Since then, Languedoc-Roussillon has slowly been recovering its status as a quality wine producer by reducing yields and going back to blending in more Grenache.
St. Chinian
Located in the middle of Languedoc-Roussillon. A great many readily available wines of Saint Chinian use lighter varieties such as Carignan, Grenache and Cinsault.
Faugères
Located very close to Saint Chinian. Faugères is in the hills off the coast with a high percentage of schist soils; perfect for aromatic reds such as Grenache.
Picpoul de Pinet
A white wine appellation produced with the regional zesty wine variety, Picpoul. Perfect with oysters.
Corbières
Fruity and juicy red wines using Carignan, Syrah and Grenache. Think easy going, like a mid-week Merlot.
Limoux and Blanquette de Limoux
Fantastic value-driven sparkling wines made in the same style as Champagne.
We hope you find this short Languedoc-Roussillon wine guide useful – and maybe it will inspire you to come and spend a bit of time wine-tasting in our lovely area! 
If you have any questions please get in touch with us, we'd love to hear from you. Send us an email on info@lacalade.fr or give us a call on 0033 7 68 24 55 54
Free Winery Guide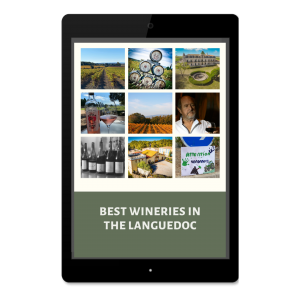 If you'd like to read about some of our favourite wineries you can download our free guide here